Fraud-O-Rama
(The Story of Christmas Valley)
by Stephen Seal

I can still remember her telling the story. It was Phyllis, a close family friend, telling me about an experience her Father had while visiting Los Angeles in the 1960s. He was a resident of Prineville, Oregon, a small logging town located in the center of the State of Oregon.
He was walking down a street in downtown Los Angeles when he saw photos of mountains, trees, streams, deer and the like. He stopped in to learn that the property being sold was just a short drive from his home. They were selling land in Christmas Valley, Oregon.
What was so startling, though, was that Christmas Valley is not a paradise of trees, lush meadows and snow capped mountains. Christmas Valley is a high desert town. Jackrabbits, sagebrush and yes, quite a few Deer. Don't get me wrong. We buy land in Christmas Valley often, but we know exactly what we're buying. It is land in the middle of the desert.
The stunning reality, that day in Los Angeles, was the fraud those salespeople were pulling over on anyone who wanted to purchase a piece of lush, green Oregon. These days, during the information age that we live in, one would like to think that those salespeople would be put in prison. But this is the pretense under which so many folks bought land in Christmas Valley.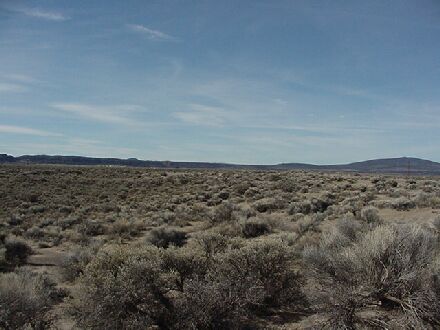 A recent photo I took while visiting Christmas Valley, Oregon
Today, we are buying parcels in Christmas Valley. I wouldn't call it "in the path of progress," but one day, perhaps 20 or 30 years from now, we expect the land prices to be higher than they are now. If you own land here, and you'd like to wait that long, by all means, don't sell your land to us. Keep it!
My point is, many of the people who are now selling their land to us are folks who either purchased it during the 1960s (during the Christmas Valley scam), probably not really understanding what they were purchasing, or they have inherited the land from someone who purchased it during that time.
Now that you've seen what Christmas Valley really looks like, would you like to sell your parcel?
Click Here to Fill Out our Online Form and Sell Your Property
©2007-2012 Land Research Foundation